Simon Thoumire and Dave Milligan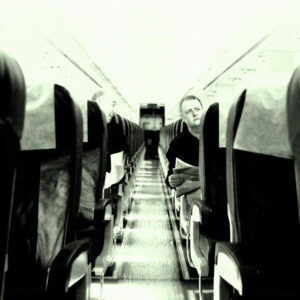 Dave and I first met in the nineties when we were all living in Edinburgh. It was such a great time to be in the city – so many music collaborations going on all the time many of them surrounding The Tron pub. The folk musicians were hanging out with the jazzers and the djs and we were all bursting with ideas!
We had played a few duo sets at various gigs and the way I remember it is that we were offered 1 day in the studio with a real piano in between recording sessions at Dave Gray's Soundcafe Studio near Penicuik. We made the decision to go for it and made an album in one day (which was exhausting!) The album was called The Big Day In and got great reviews. Will Lamb said
"Like going down a river in a velvet-lined canoe. Scottish musicians Thoumire (concertina) and Milligan (piano) give us a journey that is at times driving and turbulent, and at other times, slips peacefully by the scenery. But at all times, everything is in control, and you feel as if you are sitting on a big aqueous bed of cool. This fine display of jazztrad combines Thoumire's inventive playing with Milligan's developed capacity for rhythmic and textual variation. They give each other a lot of space with many solo moments, complementing the close, but not claustrophobic partnership. A wide variety of tunes appear, between the slow and fast, as well as a wide range of composers, from J Scott Skinner, Cape Breton's Dan R. MacDonald, to Thoumire and Milligan themselves. In track 2, 'Joseph's Jig', we hear Milligan's stylistic lead on a tune composed for his nephew. Track 4's 'Love Comes Quietly' is a tribute from Thoumire to his wife, fiddler Claire McLaughlin, in which he accompanies himself on the concertina. Milligan has an uncanny ability to the make the piano sound like other instruments, such as a guitar or a drum, as on track 3's 'Tumble in Loch Tummel' where dark pounding gives into strum-like chords. And Thoumire's concertina playing, while offering a veneer of straight ahead trad, sometimes kicks tunes into near chaos only to scold them back to decorum in the next few notes, as on his version of 'Keep it Up'. Highly recommended."
We were lucky to perform at festivals around the world. We recorded our next album Third Flight Home again at the Soundcafe – this time in two days! The title was based on the tune Third Flight Home by Clare McLaughlin (my wife) and she also played fiddle on the title track. Dave did a brilliant job of designing the cover. He took Louis DeCarlo's photo of us and made it look like we were on a plane!
We would love to play at your festival or club. If you would like to return the gesture please contact us here! Here is us performing at St Magnus Festival in Orkney. Find out more about Dave Milligan's beautiful music on his website.