Dream on Dreamer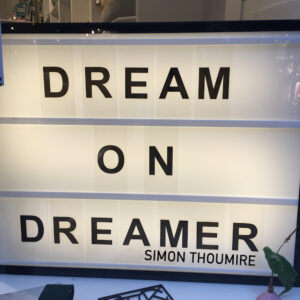 This music on Dream on Dreamer was created around 2015 – 2016. I was making a new piece of music every week and at this time I was experimenting with electronics and drum machines. I was having a great time! I've enjoyed listening back to them and choosing a few of the tracks for this album. Most of the tracks feature concertina but there are some where it is only electronics!
The title Dream on Dreamer comes from a light board I saw in a shop in Sweden which simply said 'Dream on Dreamer'. It immediately grabbed me as tune title and eventually became the album title. There is a track on my hard drive called Dream on Dreamer too. I'll maybe release it at some point…
I've written a short description about each of the tracks which you can read if you click on each track link or visit www.simonthoumire.com.
Thanks for listening. It really is much appreciated. Thanks to my family and friends for allowing me to create music. Thanks also to Martin Green from Lau who always makes me feel better about releasing these tunes!
Credits
Released January 6, 2023
All tracks performed and written by Simon Thoumire apart from
track 10 which features the amazing guitar playing of Ian Carr and track 13 which features my son Charlie Thoumire.
Track Information
Bounce
Here's a bouncy track for you. A very simple riff that cycles round and round. Bounce away 🙂
Hurry up
I think I was in a hurry when I wrote this…
As Yet Untitled
This is a version of an air from my piece The Merry Lads of Ayr which was premiered on Friday 8th April 2016 and performed by Mr McFall's Chamber in Stirling Tolbooth as part of the Distil Showcase. You can watch the performance here https://youtu.be/AqySm1RgW5o
All Thumbs
Here's a wee tune written on the African thumb piano. I bought it in Australia when I was on tour with Dave Milligan way back in 2002!
Bend It
I had an idea for a bendy track and here it is. Not a concertina in sight!
Four in a row
A mini piece of music featuring four sections linked by an idea…
For Stewart
Stewart Cruickshank was a much loved radio producer who worked for BBC Radio Scotland who passed away in November 2015. He was loved by so many people and his knowledge of music seemed infinite! Stewart was amazing to me as a young musician and amongst many things he booked my orchestra to perform 'Music for a Scottish Parliament' in 1999. I loved the gig and it gave me so much confidence to compose. I wrote this tune for Stewart! You can read about Stewart here http://projects.handsupfortrad.scot/hall-of-fame/stewart-cruikshank-radio-producer/
Simply does it
A simple march for organ, concertina, strings and flute…
Celtic Groovinn
This track was originally called Celtic Rockinn and I'm not sure when the titled changed?? Probably when I realised I had written something really groooovy!
Caravan Boogie
I wrote and recorded this little tune in Loch Tummel caravan park just outside Pitlochry. Ian Carr and I have been playing it on our tour this week. I really like it – he's not so sure… It is a little tune but swings along!
Defying Gravity
At the end of a long day the tune in my head is Defying Gravity from the Wizard of Oz. My youngest son is performing it at school and he sings it all the time. I only know the first few notes but they are beautiful and this is an improvisation on it.
Loop Doop
Here's an electronica track featuring loops and concertina. Not a lot to say about it apart from loop doop.
First Person Shooter
I'm always looking for ways to work with my surroundings. I'm interested in people and interaction. This track is a conversation between me and my son about a famous 'YouTuber'. He's a First Person Shooter!
Flutter
This fluttering track is two tracks in one. I came up with the fluttering riff and tried it with a simple tune I had written for something else. It reminds me of a hummingbird flying fast in order to stay still. I found it difficult to play correctly as I'm playing both parts at the same time. Good to test yourself though!!
Two Subways Nearly Collide
I was standing in the subway at Cessnock today and recorded the inner and outer trains arriving (and leaving) at the same time! It was a great sound with trains in both ears so I decided to use it. By the way they never nearly collided.
Strathwobble
Here's a wobbly electronic strathspey. Not much more to say than that.
Musical Statues
I was walking by the river and it occurred for me that there wasn't enough music for the game Musical Statues – especially played on the concertina! So I have now rectified this. The tune is called Miss Jane Gordon's Reel written by Isaac Cooper (1755 – 1820).
Shuffle
This is a little track. Not much more to say about it! Written at the same time as composing music for the Strathspey and Surreal Society.
Train Techno
I was sitting on the train home when I heard this amazing noise coming from the train. I immediately thought train techno and got my phone out and recorded it! I'm also hearing a bit of The Beatles' Day in the Life naturally occurring in this train sound! Feel free to take this to no 1 in the charts…