New album! Dream on Dreamer!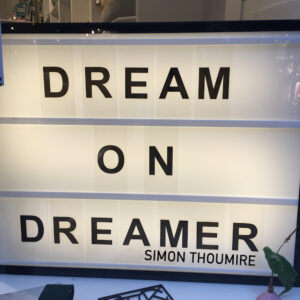 I've just released a new album! This music on Dream on Dreamer was created around 2015 – 2016. I was making a new piece of music every week and at this time I was experimenting with electronics and drum machines. I was having a great time! I've enjoyed listening back to them and choosing a few of the tracks for this album. Most of the tracks feature concertina but there are some where it is only electronics!
The title Dream on Dreamer comes from a light board I saw in a shop in Sweden which simply said 'Dream on Dreamer'. It immediately grabbed me as tune title and eventually became the album title. There is a track on my hard drive called Dream on Dreamer too. I'll maybe release it at some point…
I've written a short description about each of the tracks which you can read if you click on each track link or visit www.simonthoumire.com.
Thanks for listening. It really is much appreciated. Thanks to my family and friends for allowing me to create music. Thanks also to Martin Green from Lau who always makes me feel better about releasing these tunes!